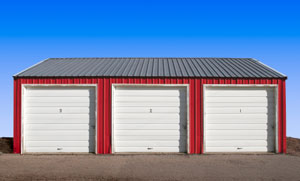 While most of us would like to think that if we go to our self-storage unit for any reason whether to remove items, add items or to just check on our belongings that we're going to be perfectly safe - you may want to reconsider this. Because most self-storage areas are in out of the way locations, many may not be as well lit as we'd like them to be and frankly, they can be downright scary for someone who isn't familiar with them. In addition, if you are planning a trip to a self-storage facility during "off hours" they can be even more frightening and may also be areas where young people are hanging around - while mostly you're likely to be safe, you never do know what can possibly happen.
How To Ensure Your Personal Safety At The Self Storage
If you are planning on going to your self-storage facility especially during "off hours" there are some important steps you can take to ensure your personal safety including:
Don't go without telling someone where you're going. If you're going to your self-storage facility please make sure to let a friend or a family member know that you're going, how long you anticipate being there and when you should be expected home. Have some sort of a plan of action if you are not home within 30 minutes of your expected arrival. Don't frighten friends and family members, let them know it's a special circumstances plan.
Take a cell-phone. Whatever other steps you might take absolutely take a cell-phone with you even if it means you need to borrow one. This is especially true if you're going to an area you are unfamiliar with. At a minimum you're going to want to be able to call 911 in the event of a problem. Don't even think of going to any self-storage facility without some way of calling assistance, even if you are going during normal business hours. Use your speed dial functions to put an emergency number (911) as well as the number of a friend or family member.
Take a friend. This is probably the safest and surest method of being safe during a trip to a self-storage facility - taking a friend with you. Taking a friend can guarantee that someone is with you and is more than aware of your location. You are less likely to run into problems regardless of the time of day or night if you're not alone.
Don't Bring Cash or Credit Cards To Your Mini Storage Unit
Make sure you have identification on your person when visiting a self-storage facility but you might want to consider not carrying excessive amounts of cash or even your credit cards - this is especially true if your self-storage facility is out of the way or you're visiting in off hours. You could even consider locking cash and credit cards into the trunk of your car before leaving home if you have plans to do other things after you visit your self-storage facility.
Conclusion
Most likely your self-storage facility offers some form of security, but there is no need to take any chances on your personal safety. While most of us are going to visit a self-storage facility during normal business hours, in the daytime or on weekends when others will be around, there's always a possibility that something can happen even in the safest of neighborhoods.
We're not suggesting you should be frightened we are merely recommending using a little bit of common sense. Self-Storage facilities tend to be in commercial areas where there is typically less foot traffic than there is in residential areas. Because of this in the event you injure yourself or other potential hazards it's less likely someone is going to be aware of it especially outside of normal business hours. Protecting your property is fine, but if you don't take the necessary steps to protect yourself your property means very little. Want to learn more? You may want to read our article about self storage security (for your items).