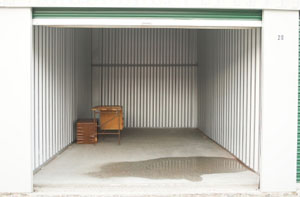 You might think that if you're property is stored in a self storage or mini storage facility that in effect the company who owns the self storage facility has your back. You should never make this type of an assumption.
You May Or May Not Be Covered By The Self Storage's Policy
Just consider self storage rental the same you would as if you were renting an apartment or renting office space and think about who actually holds the insurance on it. Simply put, when you rent self storage space from any facility, you're the tenant of that facility and you may or may not be covered under the insurance plan that the facility owns.
Don't Assume You're Automatically Covered
Most facilities will have basic coverage that might cover you in the event of fire, flood or other catastrophic events but even at that you're going to want to verify this with your self storage company. Do not assume that you're automatically covered.
Many Facilities Sell Self Storage Insurance
You are probably wondering what you do about insurance if you discover that you're not covered for things like theft or vandalism. First ask the self storage facility if they offer some type of insurance for their tenants. Many self storage facilities (like large apartment complexes) offer some insurance that you can purchase directly from them. Some self storage facilities may even require that you have insurance before you can store your items at their facility - this is not only to protect you but also to protect them.
Determine How Much Self Storage Insurance You Need
During the process where you're researching self storage facilities you're going to want to first of all determine the value of the items that you're storing. Clearly if you're storing documents and every day furnishings, you're not going to need as much insurance as if you were storing valuable family treasures or other items that might have a high personal value to you.
Talk To Your Mini Storage Owner Or Manager
Before you sign any contract with a self storage or a mini storage facility, sit down and discuss your needs with the owner or manager of the facility and find out what their rules are in regards to your property. Regardless of how well a facility is secured, there are still issues that can arise that put your property at risk. Don't forget that while a facility itself may have more than enough insurance it may not cover any of your belongings that are stored at that facility.
Questions To Have Answered Before Dismissing Insurance
Before signing any self storage contract and deciding that you don't need insurance you want to have the following questions answered:
What happens in the event that the facility is broken into and my items are stolen? Clearly you're going to want to see if the insurance the facility has covers you in this event.
What happens if the facility is broken into and damaged due to vandalism? Unfortunately you may find it difficult even if the insurance that the facility carries covers vandalism proving this type of damage.
What happens if your facility suffers water damage as a result of a faulty fire alarm, an actual fire or a roof leaking? This may fall under a clause in the facility owners policy but you're going to want to find out if there is a limit of liability.
Understand The Terms of Your Mini Storage Insurance
Make sure that you find out what the insurance rules are when you're storing items at a self storage or a mini storage facility and find out what coverage is offered to you. Also make sure that you find out what the terms of the insurance coverage is. You may find that you need to take accurate photographs of the items that are stored in self storage in order to file any type of an insurance claim.
If the facility does not offer any separate insurance, you should ask them for a referral to an insurer who actually does cover you as a tenant and again when looking into this make sure you determine what all of the limitations are of the policy.
Conclusion
We expect when we store our items in a self storage or mini storage facility that they are going to remain safe while there. Don't make the assumption that they are covered by insurance, protect yourself and understand the limitations of any insurance you're offered or that you opt to purchase on your own.