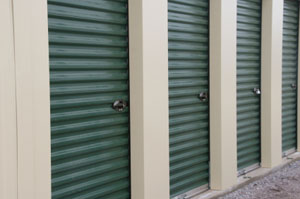 One of the biggest concerns we may face when thinking about self storage is security at the facility. We want to make sure that our personal belongings we know are going to be safe in our home will be as secure in our self storage units.
In House Management and High Technology Provide Mini Storage Security
Most reputable self storage facilities have very secure facilities, ranging from very basic in house management staffs that provide someone on site around the clock while other facilities will offer more high technology methods of protecting the belongings of those who rent a mini storage facility from them. You thought that perhaps the most difficult decision you would have to make about self storage was where to find the space, but security could be an even more significant concern to you, depending on what it is you're storing.
Do The Items You're Storing Require Security?
Let's face it, some of the items that we opt to store are not especially valuable - if we're storing clothing or even documents (unless they're personal documents which isn't really recommended) you wouldn't need as much security as if you were storing priceless family treasures or even furs. If items that are going to be stored are more common items you might not be as concerned with security as they may be easy to replace, especially if they have little value money wise and if there is not a lot of sentimental value tied up in them.
Some Self Storage Users Need Very High Security
For many of us the decision to utilize self storage as a method of securing our personal belongings, we have little or no choice but to store literally almost everything we own, from the documents that we file away in file cabinets to baby photos to awards and recognitions that we simply can't replace - many of us fall into this category of self storage user - we want something that allows us to feel secure that our belongings will be intact when we return to retrieve them and we also understand that a lock isn't much of a deterrent to someone who's determined to steal or damage our property.
Several Security Measures That Self Storages Offer
While self storage facilities offer a variety of security measures, regardless of what we are storing, we want to feel comfortable that the self storage company has in fact taken steps to ensure that our property is as safe as possible. There are many options that are available depending on your location and each self storage company will offer one or more of the following security measures.
Some self storage and mini storage facilities take advantage of monitored or unmonitored general alarm systems that often link to local police departments. Units often have individual alarm systems that are linked to a main control panel that is usually on site. One of the hazards of these types of security systems is that if you're not aware of the set time for these alarms to sound, you may find that you've spent more time than is normal in your self storage unit and may set off a detector without even realizing it.
While most self storage facilities are safe from fire - since virtually all of them are non smoking facilities - fire and smoke alarms can help reduce the possibility of significant amounts of personal property that is stored on site is safe from fire and smoke, but in the event of an unforeseen accident, most facilities do install both smoke and fire detectors.
Some self storage and mini storage companies offer what is called restricted access as a way of keeping personal belongings of their customers safe. In these cases, they require that all people who visit the facility regardless of how casual the visit sign in and log their time in and out. Often, if you are not a current customer of this type of a facility you will be accompanied by an employee of the self storage company as you tour the facility.
Some of the larger self storage facilities now offer swipe cards that look much like a credit or debit card and you may have a personal identification number that has to be used in conjunction with the card for additional security reasons in the event your card is lost or stolen. This type of a security system at a self storage facility records each card number and the time that card number was used to access the self storage facility.
Some self storage facilities utilize a system where visitors must be buzzed into the facility through the use of an intercom system which can help prevent unauthorized people from entering the facility or even a unit without clearance from an employee of the self storage company.
Closed caption television cameras are in general another good security measure at a self storage facility and are usually monitored around the clock year round. This also means that someone actually is on site whether it is an employee of the self storage company or an employee of a local security company.
Another less common method of security is an onsite manager - someone who actually lives at the self storage facility in a specially designed apartment. These onsite managers generally receive reduced or free rent in return for living there as well as being vigilant in keeping intruders from the self storage facility after hours.
There are some lower technology methods of securing your property at a mini storage facility such as providing reinforced units for mini storage purposes that will provide a deterrent to someone trying to break into a unit, specially made recessed door locks that are difficult (though not impossible) for a thief to enter the self storage unit, single key holder policies that ensure that you're the only person who has a key to your unit (which could be detrimental if you lose the key), perimeter fencing with electric capabilities or even concrete barriers built around the self storage units which prevent those with less than pure motives from seeing inside the facility itself. Some self storage facilities contract with local police departments or security companies to regularly patrol the area around the self storage property to ensure that no one is accessing the facility illegally.
Summary - Make Sure To Pick The Right Mini Storage For Your Security Needs
When you are searching for your preferred method of self storage or mini storage, be sure to carefully review all of the security measures that are in place. If you're not sure what security measures are being provided ask - it will help add to your peace of mind and help keep your property secure while it is in a self storage facility. Want to learn even more? You may wish to check out our article all about self storage and your personal security.