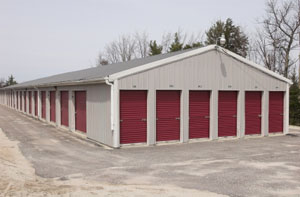 After getting a basic idea of the generation of self storage or mini storage facility that they are looking for, consumers should ask themselves which brand is best. This can be confusing at first, as each brand offers different and similar amenities at the same time, but with often drastically different pricing on the side. Popular self storage companies may offer better security and modern facilities, but can lack in the friendliness and dedication of "mom & pop" operations. While this does not mean much to some people, to others (especially the older generations) it means the difference in whether or not they will rent a mini storage unit from that particular self storage facility.
Compare All The Brands - Find The Best Self Storage For You
Self storages are not alike. While many offer similar products or services, they all have benefits and drawbacks that should be seriously considered before the purchase contract is signed. Closely examine the following popular self storage brands and determine the pros and cons of each in order to make a more informed decision.
Public Storage
This nationwide chain of self storages offers modern and secure facilities in many locations. The units come in varying sizes and at different prices accordingly, with the smallest units being the cheapest. They offer moving supplies, boxes, and truck rentals on-site in order to make the move-in easier for the customer. At different times of the year, move-in specials can make pricing much more desirable and draw in large numbers of renters. Simply enter in the zip code of the desired storage location and find a mini storage near that area.
http://www.publicstorage.com
Shurgard
The company that was once simply called Shurgard is now a part of the Public Storage self storage group. The two combined companies joined forces in order to provide a wider range of locations available, and host a choice of nearly 2,000 different mini storages locations. They also offer truck rentals, moving supplies, and storage units.
http://www.shurgard.com
Extra Space Storage
Extra Space Storage is a chain of self storage that offer climate controlled units, the best security available, clean and well-lit properties, and many have on-premise managers 24 hours a day 7 days a week. These mini storages come in different sizes and, unlike many other self storage facilities, do not require a yearly commitment. There are also monthly contract options available. On the other hand, many Extra Space Storage facilities do not offer rental trucks. They do, however, offer moving boxes and supplies, and normally employee a maintenance crew to help with loading and unloading items on site. Again, entering a zip code at the home page will help customers locate a nearby facility from among the 600 available.
http://www.extraspace.com
American Self-Storage
This company is located in the New York and New Jersey area and caters to nearby residents. They offer pickup options and delivery of items when necessary, and have excellent security options available. Each unit has its own alarm, making them more secure from intrusion, and the on-site staff is available for assistance with loading and unloading items.
http://www.americanselfstorage.com
Self-Storage Locators
To more easily find a brand with locations in a particular area, click on the desired state and follow the links to find out which brands are available in that area. This option may be easier than searching each individual self storage site, and can show a broader variety of both small and large mini storages.
http://www.selfstorage.com
U-Haul Storage
The rental truck agency also offers self storage in some areas. They are in cooperation with eMove and offer the same options and facilities. They allow deliveries to the unit, and offer anytime access to the facility, including accepting online payments. They are one of only a few mini storages that do not require a deposit before move-in. In many locations, free storage can be obtained for certain lengths of time following a one-way reservation of a rental truck.
http://www.uhaul.com/storage/
Portable On-Demand Storage (PODs)
These containers are ideal for businesses or short-term storage. For customers in the process of building a home and needing to temporarily store items, PODs are a great way to get things out of the way and know that they are in a safe place. Some PODs are left on location and others are sent to a POD facility, depending on the needs of individual customers or businesses.
http://www.pods.com
There Are Many Different Mini Storage Brand Options
There are many different options available for all types of self storage needs. Mini storage has changed tremendously over the last ten years, and the units have changed accordingly. With the addition of tighter security, climate-controlled units, on-premise managers and staff, and delivery options, customers are able to move the things they wish to store with relative ease and often with only small hits to the checkbook. Always research a facility before agreeing to a contract, as these contracts are nearly the same as regular rental agreements and, in the eyes of the law, are treated as such.
Conclusion
In addition to brand name self storage, many smaller locations also offer a variety of amenities and have great security besides. They often cost much less than brand names and the difficulties of finding them can be worth the trouble. Using an online search engine or local phone book will make the process of finding them easier. Sometimes, a smiling face and smaller facility can make a big difference toward the building of rapport between customer and mini storage or self storage facility.