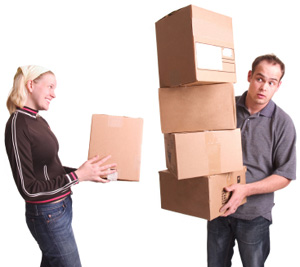 At first glance you might think that it's impossible to save more money than you're already saving by taking advantage of self storage versus other methods of storing your belongings. In fact, there are many options that are still available to you to save money versus paying extra storage fees!
Save Money On Self Storage Boxes, Mattress Pads, and More
Since many self storage facilities require that your belongings be properly protected from damage, they typically sell boxes, mattress storage containers, pads and more. But, you don't have to spend money at a self storage facility to still take advantage of some of these great protectors, in fact, many of them you can deal with yourself and have the added benefit of reusing them in the future.
Fill Your Mini Storage Unit With Stackable Plastic Containers
Let's first talk about boxes for putting items in. Boxes are expensive, they're difficult to use at home for any purpose and too often they wind up in our recycle bins because we simply don't know what else to use them for. You can protect your storage items by purchasing sturdy plastic storage containers that are designed to stack on top of each other that not only help protect your property but have the additional benefit of coming in a variety of sizes, shapes and colors. These storage containers also come in handy when you remove items from storage and perhaps donate or sell them - you can now use these containers for storing toys, clothing, pet foods, craft items and many other types of items. These sturdy bins with very tight covers stack easily, take up little floor space and provide a neat appearance to the smallest area.
Save Money Storing Your Mattress In Your Self Storage Unit
Mattress storage containers are a tremendous waste of money. Basically if you're storing a mattress your mainly interested in protecting the padding and the fabric from damage that could be caused by other items in your self storage unit. You can go to your local discount store and for less than five dollars pick up a zippered mattress cover that will allow the same protection for both your mattress and box spring which protects the mattress from odors, stains and possible tearing which can occur if items shift or fall in your storage container. Mattress storage boxes can cost upwards of fifty to seventy five dollars and worse they can't be reused.
Padding Your Delicate Items Before Storing Them
Moving and storage pads are helpful to protect furniture from marring, scratches and also to protect wall paintings and other delicate items that you might be putting into a self storage unit. However, you'll find in your home plenty of things that can save you this expense by simply opening up your linen closet! You can use blankets to protect furniture, sheets to wrap wall paintings and even hand towels and face cloths to wrap up small collectible items that you're putting into storage.
Most of us are not using storage facilities for storing items for extended periods of time, but instead we're between homes, we're saving for a bigger home or other life changing things are happening that require us to put items into storage. Self storage facilities offer a cost savings to those of us who are in need of this type of storage and spending needless money on containers, fillers and padding is simply a waste of money especially if you've decided to put items into storage for the purposes of saving money! Don't fall into the trap that so many of us do and spend money to save money, it's simply not practical! Want to save even more money? You may wish to consider alternatives to self storage.